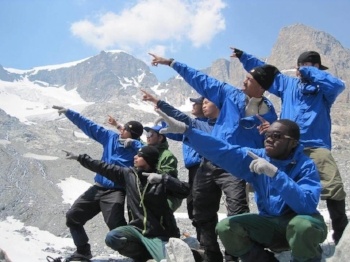 To some high school students, the sweltering summer months may be the perfect time to lose themselves in video games or binge-watch television shows.

Not to 17-year-old Cedric Cumba. This summer, after his sophomore year at Chelsea High School, he was exploring the Minnesota wilderness, hiking and canoeing in the expanse of the Superior National Forest. Summer Search Boston, a nonprofit enrichment program that provides mentoring and scholarships, helped prepare him for the trip and cover the cost.

The three-week experience was grueling, both physically and emotionally. But Cedric said hepushed through the limits, learning how to adjust to uncomfortable environments in the process.

"There were some hard times, but that's what I expected," said Cumba, who returned earlier this month. "That's what I signed up for."

Cumba is one of 400 high school students in Greater Boston benefiting from Summer Search this year. The organization, which started in San Francisco and is celebrating its 20th year in Massachusetts, aims to rise teens above systemic barriers that may naturally prevent them from developing their full potential as students.

Summer Search spends about $6,500 per year on each student, funded by donations from corporate partners, foundations, and individuals, according to executive director Liz Marino. It employs 13 full-time mentors who keep tabs on the students weekly during the school year.

The students also go on two summer trips. The first is a wilderness excursion, where rising juniors join larger groups through organization partners such as Outward Bound and National Outdoor Leadership School. The second is a service or academic trip that can take students outside the country before their senior year.